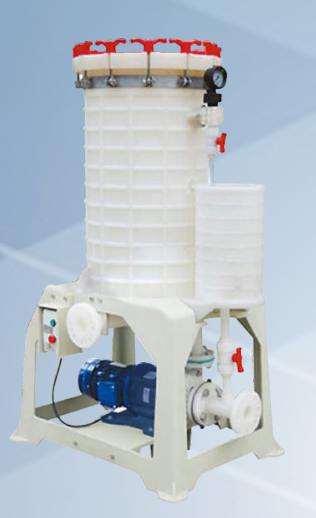 PVDF/PP
PVC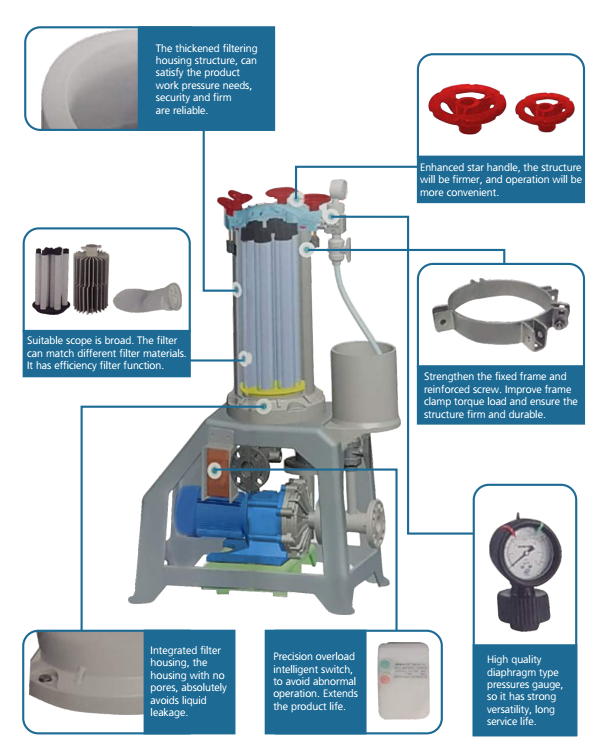 FEATURES & BENEFITS
Filter housing PP material injection molding as per customer request they can choose PVDF/PP/PVC materials.
The thickened filtering housing structure, can satisfy the product work pressure needs, security and firm are reliable.
The filter can match different filters materials. It has a high efficiency filter function. Can be widely used in acid and alkali, plating, etching liquid, cleaning fluid condition and so on.
High quality diaphragm pressure gauge, versatility and long distance life.
Match up Precision brand corrosion resistant Pump, performance more stable.
The machine suitable for continues plating chemical liquid circulation filtration process.
Filter Housing is integrated die casting, no porosity, absolutely avoid liquid leaks.
The filter can match different filter cartridge; it has a high efficiency filter function.
It have many advantages: structure firmer, more convenient operation.
Compact structure, easy to installed, space saving, simple operation, convenient maintenance.
Precision control intelligent switch prevent overload, avoid abnormal operation, extend service life.
TYPICAL APPLICATIONS
Chemical or water recirculation
Various plating solutions recirculation
PCB plating solution
Deliver acids, alkali liquid
FILTER SPECIFICATION
| | | | | | | |
| --- | --- | --- | --- | --- | --- | --- |
| Model | Capacity (L/Min) | Casing MOC | Cartridges | Max Temp(Oc) | Motor HP | Outlet*Inlet (mm) |
| PF-1004 | 40 | PP | 10"*4 | 70 | 0.25 | 25x25 |
| PF-2004 | 80 | PP | 20"*4 | 70 | 0.5 | 25x25 |
| PF-2006 | 160 | PP | 20"*6 | 70 | 1 | 40x40 |
| PF-2008 | 180 | PP | 20"*8 | 70 | 2 | 40x40 |
| PF-2012 | 220 | PP | 20"*12 | 70 | 2 | 40x40 |
| PF-2018 | 330 | PP | 20"*18 | 70 | 3 | 50x50 |
| PF-3018 | 400 | PP | 30"*18 | 70 | 3 | 50x50 |
OUR FILTERS